Product Description
Shijiazhuang Enlio Sports Goods Co.,LTD is situated in City of Shijiazhuang, Hebei Province, integrated with research & development, produce, sales, installation and after-sales service since 2007.
Enlio company has two brands of "Enlio" and "Alite", specialized is sports surfaces including PVC sports flooring, Modular Court Tiles , Wet Area Mats , Kids Room Flooring , Dance Flooring , Multi- Purpose Flooring, Coverts more than 100 types, applicable to Badminton Court Mat, table tennis court, basketball court, tennis court, volleyball court, gymnasium, dance room, kindergarten, swimming pool surrounds hotels, etc.

1.1.5mm-thick high-durable anti-slip crystal-surfaced layer
2.Compound high-strength polyester mesh stable layer
3.Compound glass fibre mesh anti-shrink layer
4.Double-foaming buffer layer with high density
1.Specifications
width of single roll: 1.8m
length of roll: 15m
surface patterns: crystal sand
thickness of wear-resisting layer: 1.5mm
total thickness: 5.0mm
total length&width of floor: 15m*7.1m
total areas of floor: 106.5Sqm
storage period: 10years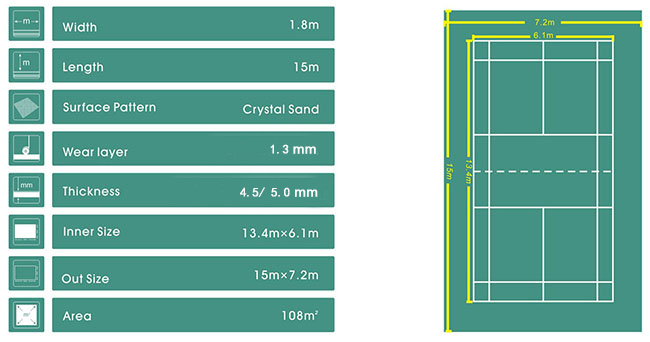 2.Feature:
<Super durable
<Excellent resilient
<Easy install and clean
<Shock absorption
<Sound absorption
<Anti-slip
<Comfortable foot feeling
3.Installation instruction:
The ground should be cleaned before installation, unfolded the floor tiles should be on the ground more than 24 hours in advance and the local temperature should not below 15°C. Leave 5cm more on each end when cutting.
1.Movable assemblage The pieces of flooring are cemented together with the special single-sided adhesive tape provided by the manufacturer, but the flooring in a whole would not adhere to the ground in order to facilitate the moving in the future.
2.Partial fasted cementation: Starting from the borderline of the flooring ,paint glue for cementation inward for 10cm.Or use the double-sided tape provided by the manufacturer for bonding.

3.Full-glue cementation: Cover the whole ground under the flooring with glue for cementation.(Basketball, tennis courts would be preferable to use the full-glue cementation, otherwise it will affect the rebound when the ball drop to the ground)