Product Description
Shijiazhuang Enlio Sports Goods Co.,LTD is situated in City of Shijiazhuang, Hebei Province, integrated with research & development, produce, sales, installation and after-sales service since 2007.
Enlio company has two brands of "Enlio" and "Alite", specialized is sports surfaces including PVC sports flooring, Modular Court Tiles , Wet Area Mats , Kids Room Flooring , Dance Flooring , Multi- Purpose Flooring, Coverts more than 100 types, applicable to Badminton Court Mat, table tennis court, basketball court, tennis court, volleyball court, gymnasium, dance room, kindergarten, swimming pool surrounds hotels, etc.

Floor covering
1width of single roll 1.80m
2.length of roll 15m
3.surface patterns crystal sand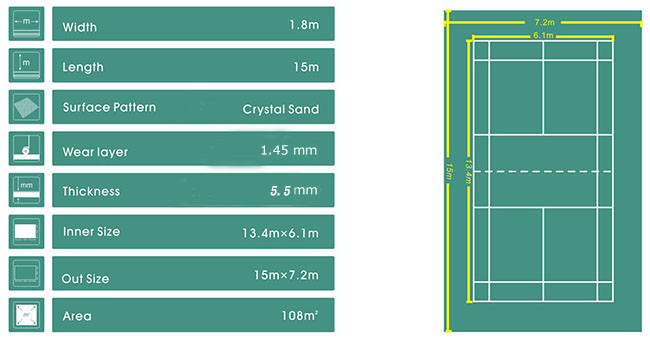 Floor covering
Product Description
1.5mm-thick high-durable anti-slip crystal-surfaced layer
compound high-strength polyester mesh stable layer
compound glass fibre mesh anti-shrink layer
double-foaming buffer layer with high density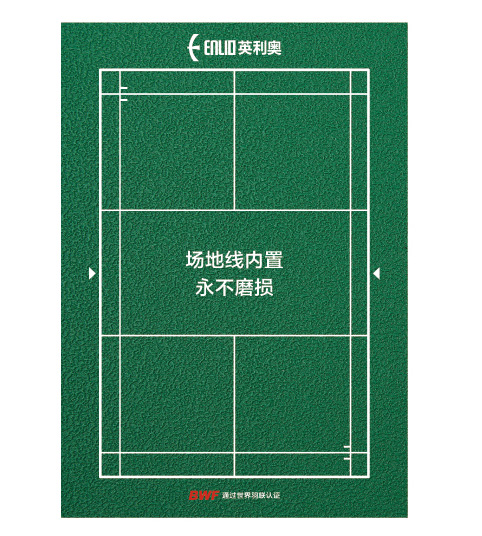 Product Feature
ENLIO Badminton PVC Sports Flooring provides great comfort in absorbing shock and rebounding. It's the best choice for both general and professional use.
Product Specification/Models
width of single roll 1.80m
length of roll 15m
surface patterns crystal sand
thickness of wear-resisting layer 1.5mm
total thickness 5.0mm
total length width of court borderline 13.4m*6.1m
total length&width of floor 15m*7.1m
total areas of floor 106.5sqm
color green

storage period 10years