Product Description
Enlio Wet Area Mats is ideal for swimming pool surrounds, showers, spas,saunas and changing rooms. And Multi-Purpose Flooring.
Unique design allow water to drain off easily,providing slip resistant, safe and dry surface. Enlio mat is warm and comfortable and ideal with barefoot traffic.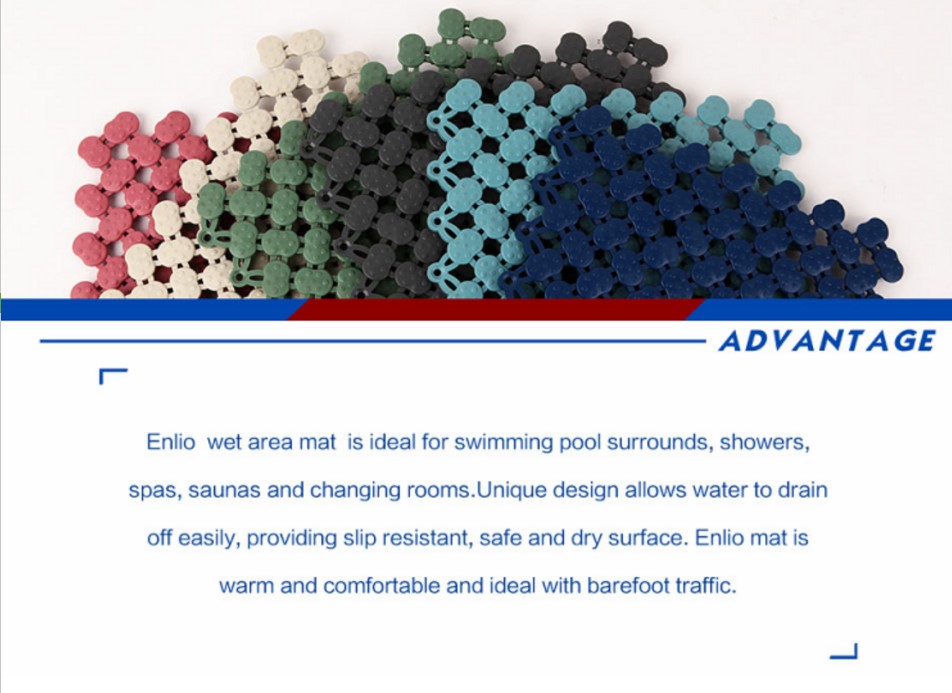 Detailed description:
1. Materials: Anti-bacterially treated UV- resistant soft vinyl.
2. Length*Width*Height / thickness: 20cm * 20cm * 0.9mm
3. Weight: 4.1kg / m2
4. Suitable temperature range: -35°C-+70°C
5. Color: Dark Blue, Light Blue, Dark Gray, Ocean Green, Beige, Antique Pink
6. Package: 50pcsv/ CNT
7. Bacterial resistance: No growth
8. Slip resistance:DIN 51097: A+B+CDIN EN 13451/15288-1:30
Usage: Swimming Pool surrounds, Saunas room, Bath center, Shower Mats, Spas, Changing room, Outside Multi-use Court Tiles. Hotels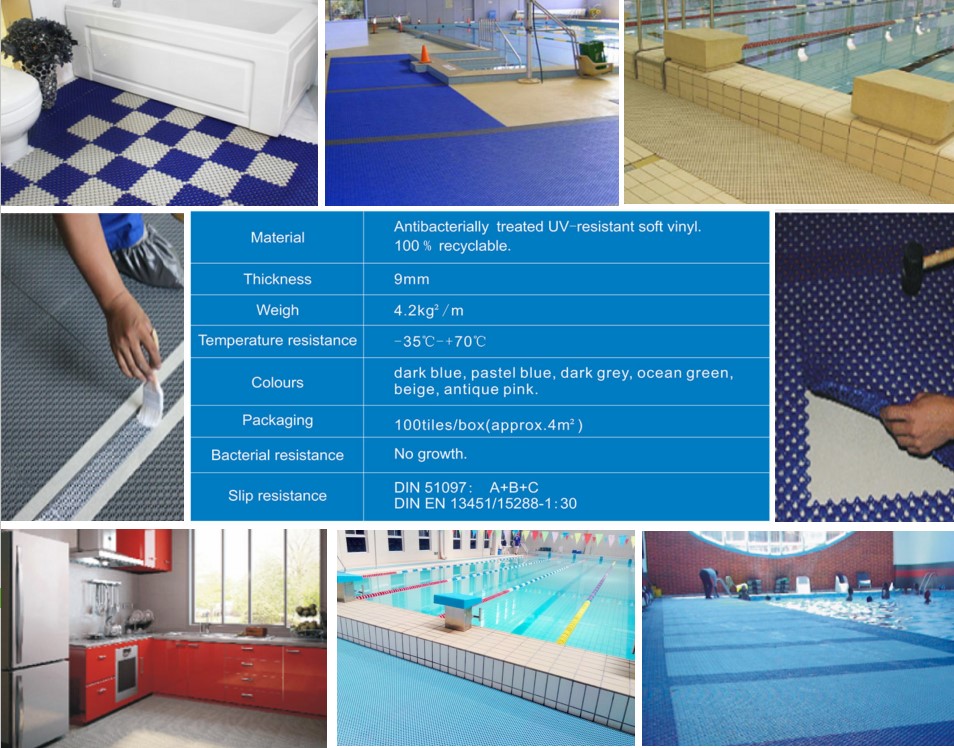 Advantages for Plastic Wet Area Mats:
1. Easy to Assemble
Joining tiles together is very easy, turn tiles upside down and connect tiles with a hammer.
2. Easy to Clean
Enlio Anti-Slip Wet Area Mats is easy and inexpensive to clean, simply by mopping over or hosing down. Dirt that falls through the mat is easy to clean up from the floor underneath.
3. Variety designs and shapes
Enlio PVC Wet Area Mats can be assembled in a variety of designs and shapes. Allow you to economically creat a surface of any length, width or shape. This matting is an ideal way of covering large or irregular areas.
4. Seamless Look
Hidden interlocking connectors.