Product Description
Indoor Futsal Court Flooring
Futsal comes from Spanish fútbol sala or fútbol de salón and from Portuguese futebol de salão. The term is commonly translated as "indoor football" but a more literal translation is "hall/lounge football". During the sport's second world championships held in Madrid in 1985, the Spanish name fútbol sala was used. Since then, all other names have been officially and internationally changed to futsal. The naming was due to a dispute between FIFUSA (the predecessor to the AMF) and FIFA over the name of fútbol, FIFUSA has registered the word fut-sal in 1985 (Madrid,Spain). Since then FIFA has also started using the term futsal. The name has been translated into Italian as calcio a 5 or football sala and French as football de salle.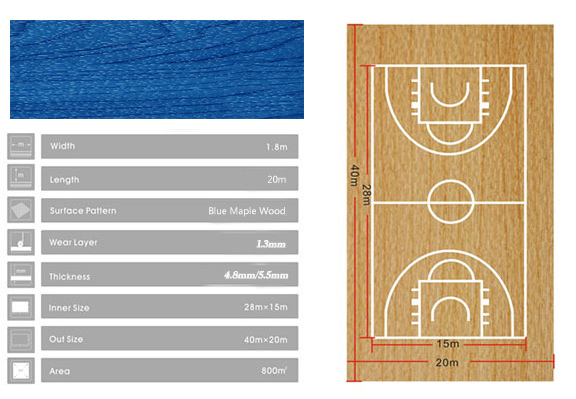 Futsal is one of the fastest growing sports in the world. It is the modified form of soccer played with five players on each side and typically played in an indoor format.
Enlio Indoor Futsal PVC flooring
Model # Y-45170
Pattern: Maple Grain
Color: Blue
Size Specification: 1.8mx20m
Thickness: 7.0mm
Shock Absorption:107
Ball Rebounce:110
Vertical Deformation:0.7

Features of our Sports Flooring:
1. Surface with super wear resistant treatment, anti-slip.
2. Transparent layer covered,color more durable.
3. The inner layer with non-woven glass fiber bi-direction polyester mesh fabric, structure to ensure the long-term use of the flooring.
4. Non-Calcium additive foaming layer, make sure excellent shock absorption.
5. Bottom layer with special treatment, effectively enhance the adhesion to the ground.
6. Classic oak, maple, teak pattern, imitate real wood surface. Easy to clean, comfortable eyesight for the players and audiences.
7. ENLIO fake-proof mark.
Maple blue(playing area) + Red Gem (border area) flooring, accomplished court can achieve an international competition grade.
Ever serviced 2015 CFA Futsal International Tournament
2016-2017 CFA Futsal Super Tournament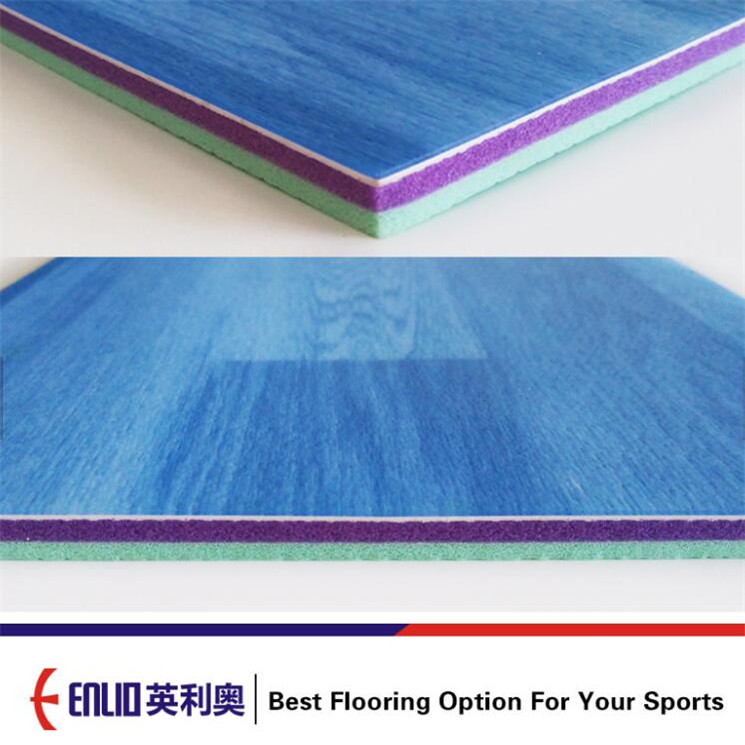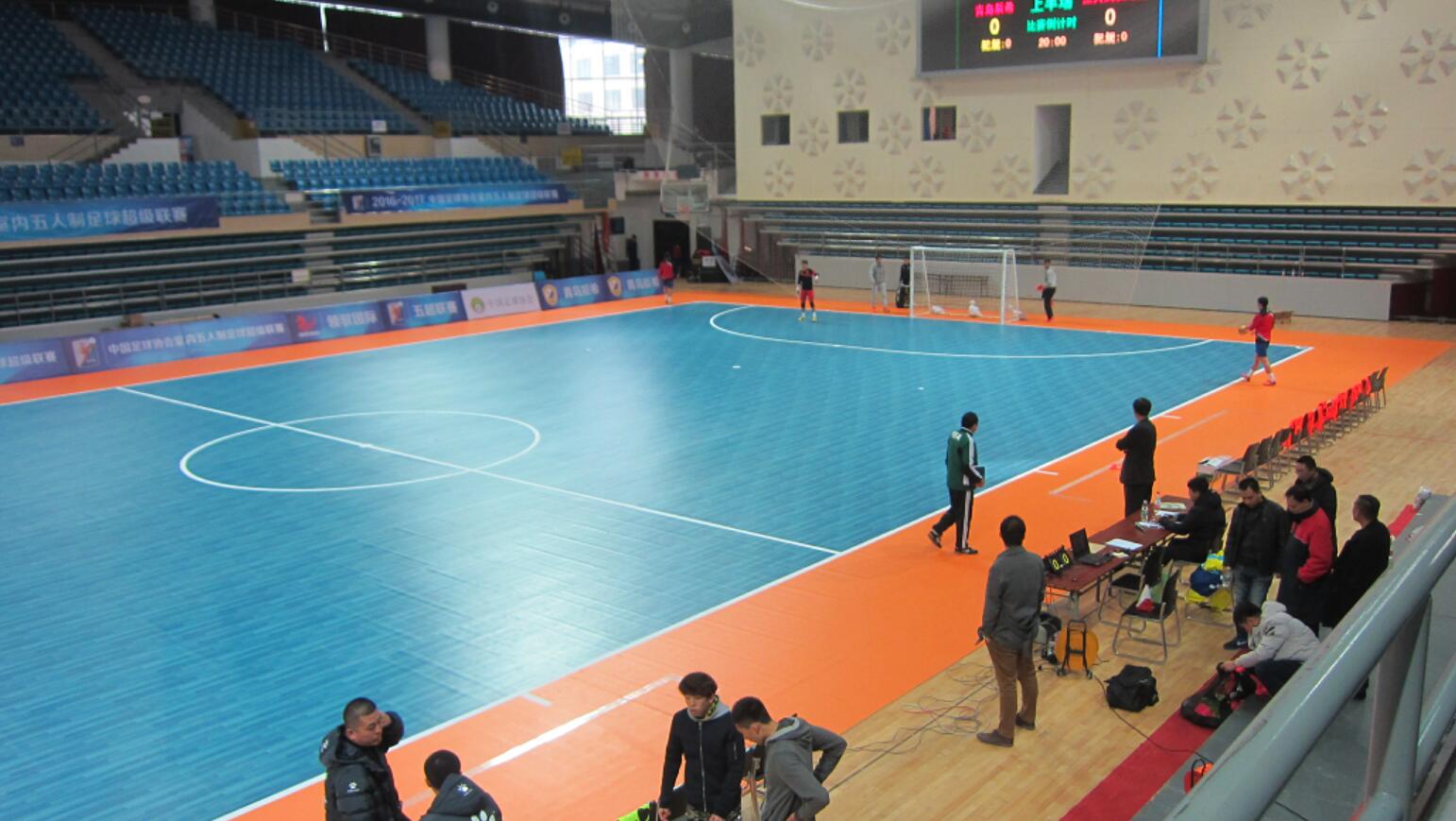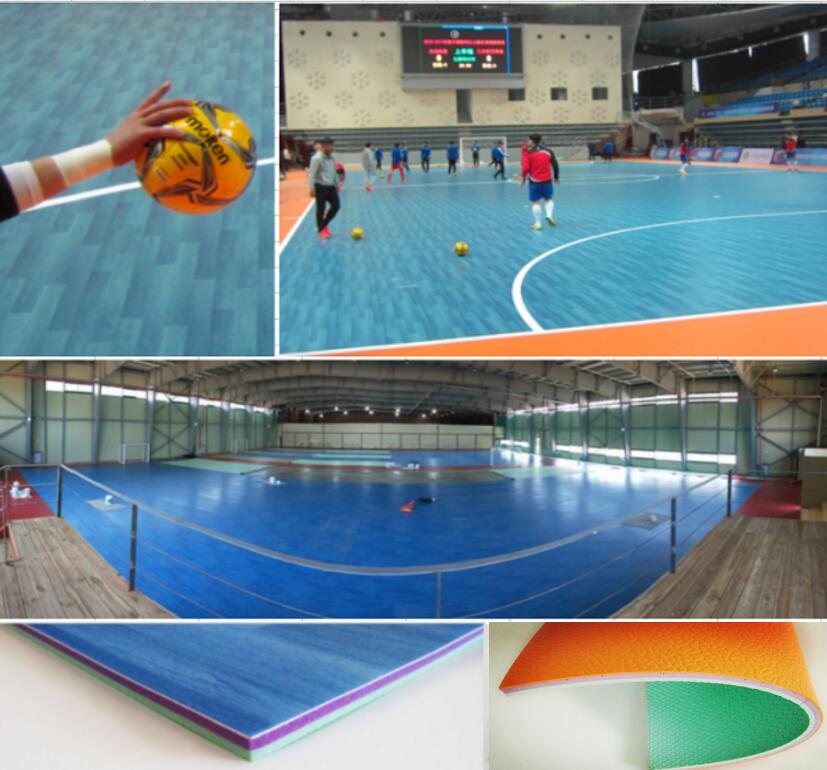 Futsal court construction basics
Futsal court construction depends upon the type of the match played, such as international matches & non-international matches.
For international matches –
Pitch length should be minimum 38m x 18m and maximum 42m x 22m
Run-off enclosed pitches should be minimum 2m x 2m but recommended is 3m x 3m
Run-off open space pitches should be 3m x 3m
For non-international matches –
Pitch length should be minimum 25m x 15m and maximum 42m x 25m
Run-off enclosed pitches should be minimum 2m x 2m but recommended is 3m x 3m
Run-off open space pitches should be 2m x 2m
Material of PVC Sports Flooring:
The raw material of our Sports Flooring is virgin materials instead of recycled material to make sure the high quality. The service life of our pvc plastic floor is as long as 10 years under normal conditions.
Advantage of PVC Flooring:
1). Environment friendly: made of PVC pure virgin material
2). High quality and longest service life: one-off scrape coating techniques.
3). High density of the foam layer, no calcium addition. Control well of the quality.
4). Wear resistance, moisture proof, slide prevention, shock absorption, fashion and beautiful, etc.
5). Easy installation and maintenance.
6). Different surface design to meet specific sports performance.
Application of PVC Sports Flooring:
1. Sport venues: basketball court flooring, tennis sports flooring, badminton court mat, runway, Multi-purpose Flooring playground, Gym Room flooring, halls, and any other training or competitive places.
2. Commercial or public places: office buildings, hotels, dance halls, exhibition halls, hospitals, schools, kindergardens, parks, corridors, etc.
3. Residential places: appartment, living room, rest room, bedroom, etc