Product Description
Enlio Sports flooring-professional basketball court tiles
FIBA 3x3 is an opportunity for new players, organisers and countries to go from the streets to the World Stage. The stars of the game play in a professional tour and some of the most prestigious multi-sports events. On June 9 2017,

FIBA

3x3 was added to the Olympic Program, starting from the Tokyo 2020 Games.
Shijiazhuan g Enlio Sports Goods Co.,LTD is a professional manufacturer for Sports Flooring in China, and we have more than 100 types mats divided in Court Tiles, Kids Room Flooring, Gym Room Flooring, Dance Flooring, Wet Area Mats, PVC Flooring and so on .
Enlio New Designed Court Tile for FIBA 3X3
Enlio Interlocking Court Tiles SES III
Material: High Flexible Macromolecule
Size: 25X25X2CM
Feature:
1. Ball rebounce:97
2. Shock Absorption:56
3. Resistance on surface,specially on wet surface tested by TOP FIBA 3X3 players and get 100% positive feedback.
4. Used to 2018 FIBA 3X3 Challenge, Asia Cup, Euro Cup, U23 World Cup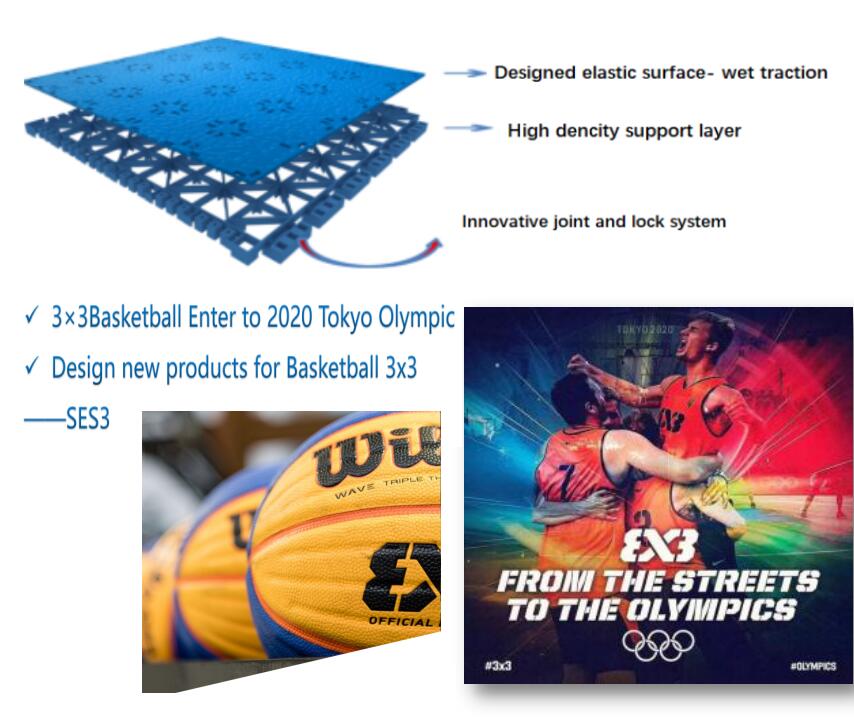 Company Strength
1. With the largest production base and warehouse for Court Tiles in the world, TOP annual sales for Sports Flooring.
2. 100% PP(Polyproplene) material, food standard, make sure a more stable quality.
3. Imported dye stuff from Germany Basf. Superior color fastness and anti-weather performance. The interlocking tile will be no obviously color change within 5 years.
4. Totally self-production from the particle, control quality from the very begining of the production.
5. Special injection molding process, no color shading, even shrinkage and flat surface. Anti-aging.
6. The unique flexable locking system, effectitily control the thermal expansion and contraction.
TESTIMONIAL