Product Description
Whether you`re looking for a competition court, Multi-Purpose Flooring playground, Basketball Court Flooring, volleyball center, or a futsal court, we know it`s an investment in a future of fostering dedication and commitment. We`ve found there`s nothing important than a qualified well done sports flooring makes. Certified Enlio Sports flooring offer you Safe guarantee, and also Superior Sports Performance!
Company Information
Enlio Sports integrated with research & development, produce, sales, installation and after-sales service.
We are a professional manufacturer of Sports Flooring in China. Our products are divided into PVC Sports Flooring, PP Interlocking Flooring, Kids Room Flooring, Dance Flooring, Gym room Flooring, Rubber Flooring and Anti-slip Wet Area Mats.
Certificates
Our products have approved by BWF, ITF, ITTF, ISO 9001, ISO14001, CE, SGS, Fireproof Certificate.
Sponsor lots of international games including:
2018 Youth Olympic Game
2016,2019,2020 ITTF World Championship
2017-2019 Badminton Asia Championship
2018 FIBA 3X3 Challenger,Asia Cup,Euro Cup, U23 World Cup.
2016-2017 CFA Futsal Super Tournament.
Got agreement with CBA on our Wood Grain Flooring, in another word, our wood color flooring can meet the requirement of international basketball competitions.
Basketball PVC Sports Flooring
Products Features
1. Sports Flooring Surface with super wear resistant treatment, high purity raw materials, quality assurance
2. Transparent layer covered,color more durable.
3. The inner layer with high-density glass fiber bi-direction polyester mesh fabric, structure to ensure the long-term use of the flooring.
4. Bottom layer with special treatment, effectively enhance the adhesion to the ground.
5. Classic oak, maple, teak pattern, imitate real wood surface. Easy to clean, comfortable eyesight for the players and audiences.
6. ENLIO fake-proof mark.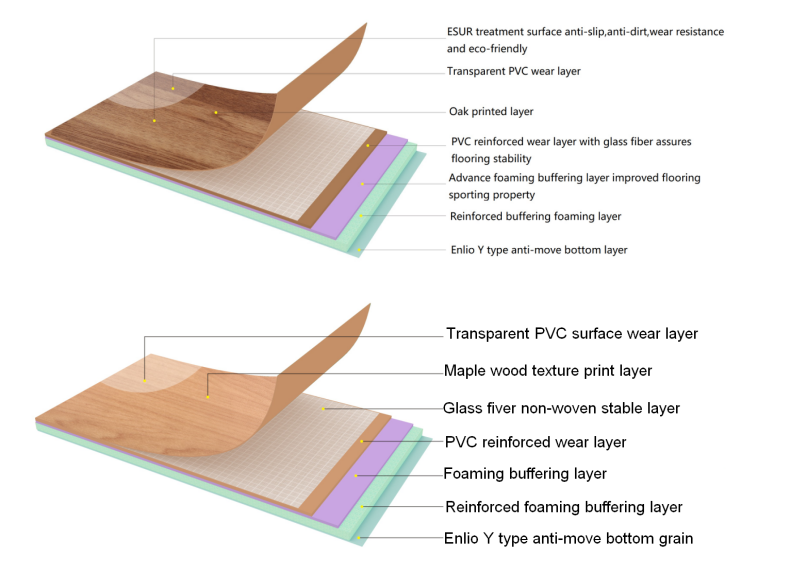 1.1.2mm-thick Pvc wear-resisting coat: super endurance
2.Double fiber-glass reinforced layer:make the flooring non-shirinkbaleand long warranty time
3.Pvc wear-resisting coat: super endurance & wearing strength
4.Double-foaming buffer layer: good performance in rebounding and shock absorbing
Specifications
Width of single roll: 1.8m
length of 15m or 28m
Surface patterns: Maple,Oak
Thickness of wear-resisting layer: 1.2 or 1.5mm
total length&width of floor 40m*20m
total areas of floor 800Sqm
total thickness :7.0mm
Warranty Time: 8-10years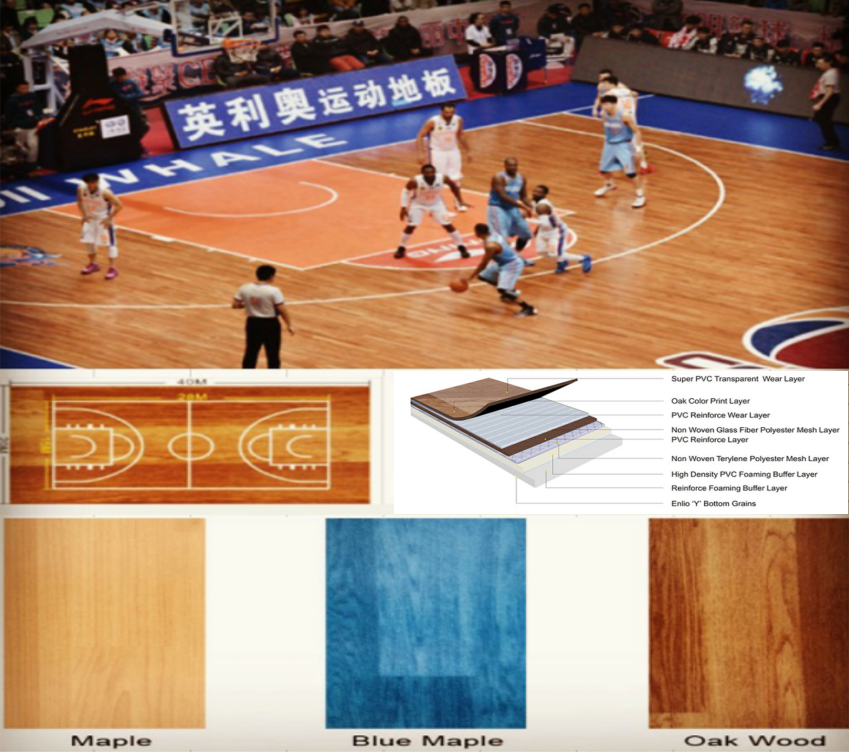 Material of PVC Sports Flooring:
The raw material of our Sports Flooring is virgin materials instead of recycled material to make sure the high quality. The service life of our pvc plastic floor is as long as 10 years under normal conditions.
Advantage of PVC Flooring:
1). Environment friendly: made of PVC pure virgin material
2). High quality and longest service life: one-off scrape coating techniques.
3). High density of the foam layer, no calcium addition. Control well of the quality.
4). Wear resistance, moisture proof, slide prevention, shock absorption, fashion and beautiful, etc.
5). Easy installation and maintenance.
6). Different surface design to meet specific sports performance.
Application of PVC Sports Flooring:
1. Sport venues: basketball court flooring, tennis sports flooring, badminton court mat, runway, Multi-purpose Flooring playground, Gym Room flooring, halls, and any other training or competitive places.
2. Commercial or public places: office buildings, hotels, dance halls, exhibition halls, hospitals, schools, kindergardens, parks, corridors, etc.
3. Residential places: appartment, living room, rest room, bedroom, etc