Product Description
FIBA Outdoor basketball court floor

Company Introduction
Shijiazhuang Enlio Sports Goods Co., Ltd., located in Shijiazhuang, is a leading plastic sports floor making company. Our company integrates the manufacture, sale and after-sales services. In 2006, on the basis of original Taiwan technology, we developed PVC sports flooring by applying the metal-rolling production line from Germany. Our annual production capability is 5,000,000 square meters. At the same time, we also provide high-qualify OEM services for many brands.
Our main products include PVC Flooring, Courts Tiles, Kids Flooring,Wet Area Mats,Dance Flooring.
Due to specialised design in combination with integrated foam backing,ENLIO basketball PVC flooring efficiently protects athletes` joints and cartilages during sports, training, game and competition.
The patented tech surface top layer of FIBA Court Tiles ensures durability and easy maintenance of the floor covering.Along with excellent functionality, it is renowned for optimal slip resistance which helps to prevent accidents caused by either a too low, or a too high coefficient of friction.
ENLIO Outdoor PP Interlocking Flooring Basketball Court is a point elastic sport flooring fully compliant with the requirements of EN 14904.
Products Features:
1.High quality material and environmental protection
2.high-elastic buffer, sports protection
3.Unique locking systerm design to effectively control thermal expansion and contraction
4.soft connection structure to ensure the accurate ball rebounce
5.scientific design to reduce construction costs.
6.Anti-move,anti-theft.
Advantage of Enlio Sports Flooring
1. Supply: very day can produce more than 50000 sqm .
2. Raw material: Our materials are 100% pure food grade PP ,so can ensure the products performance ,quality is more stable.
3. Toner: Our toner are BASF coating , we can ensure the products are not fading within 8 years.
4.Full-process production: The material granules are completely made by ourself,so we can control products quality from the beginnings.
5.Molding process: We adopt single-pont single-mode injection molding process ,ensure that the shrinkage rate of product injection molding is uniform,no dimensional deviation.and the injection temperature is low and does not affect the material aging ,the color is even.
6.The lock design: From the structure of products , our unique elastic lock design is effective in alleviating the thermal expansion of the floor.
7.Anti slip: The surface of decorative pattern , frosted design ,anti-slip treatment imporves the performance of the products .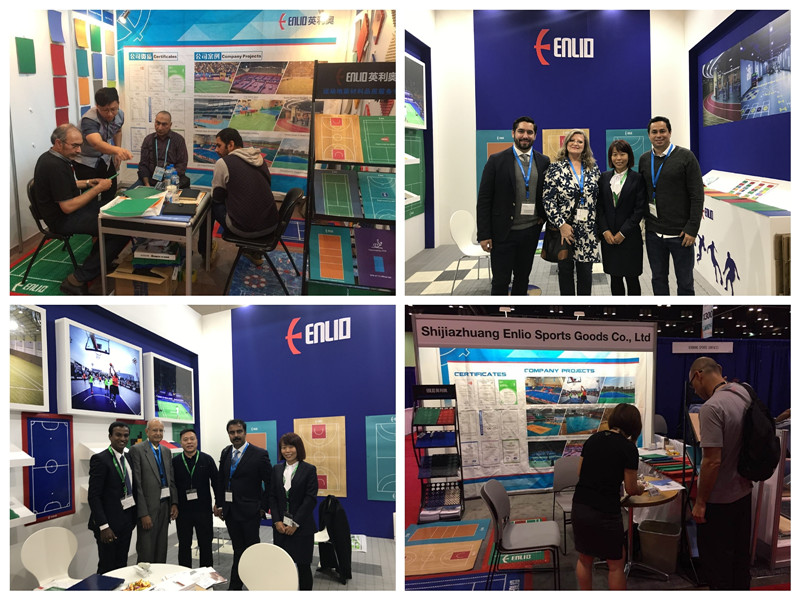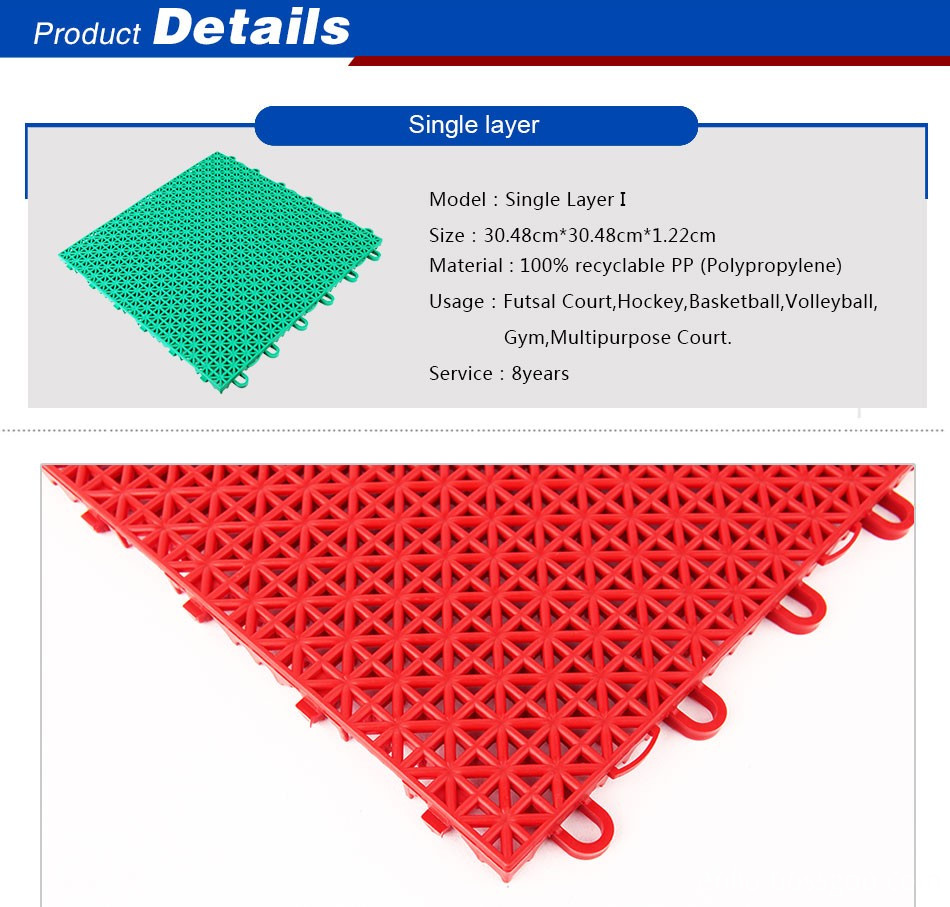 Company: