Product Description
Permanent or Portable
dance studio floor
Dancing is an art form that can benefit greatly from a floor which is designed with dance movements specifically in mind. It is engineered to respond to the requirements of that specific activity. The surface provides stability, comfort underfoot and shock absorbing properties to reduce stress on lower extremities. Contrary to most sports flooring available on the market, Dancefloor provides a surface with a better grip. Its characteristics are also adapted to comply with the needs of professional performances, stages, and dance studios. Whether you practice ballet, jazz or even hip-hop, Dancefloor is a high-performance synthetic flooring to keep you dancing as much as you desire!
Installs easily over any hard, smooth surface. High density foamed backing provides a safe floating subfloor environment with additional shock absorbency. Non-Slip surface is ideal for all dance activities except tap and clogging. Sound will be reduced due to the foam
Shijiazhuang Enlio Sports Goods Co.,LTD is a professional flooring manufacturer based in China, and we have more than 100 types mats divided in Court Tiles, Kids Room Flooring, Gym Room Flooring, Dance Flooring, Wet Area Mats, PVC Flooring and so on .And our dancing flooring possesses excellent anti-scratch surface, and widely used in China, and more and more popular in overseas.
Size Specification
Material:
·3 Layer laminate
·Fiberglass lined
·Single PVC wear layer
·Base foam layer
Permanent or Portable - Both

Length: customized
Width: 1.8m
Thickness: 4.2/5.6mm
Color: light grey, light blue, dark grey, dark blue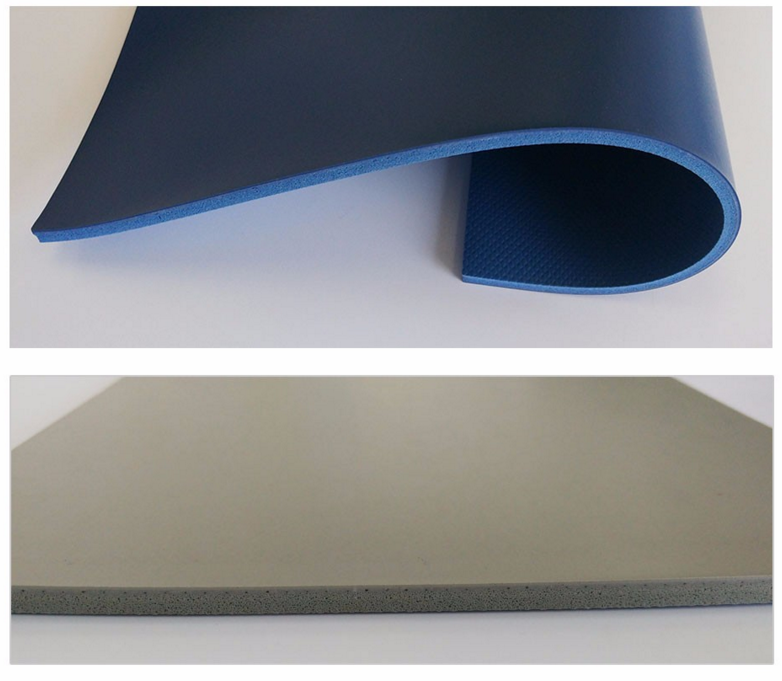 Suitable for:
aerobics and zumba
hip-hop, jazz and street dance
ballet
contemporary dance
modern dance
FEATURES & BENEFITS
1.PHTHALATE-FREE TECHNOLOGY
It`s manufacturing process uses a technology that completely eliminates the use of harmful Phthalates.
2.LOW LEVELS OF VOLATILE ORGANIC COMPOUNDS (VOCs)
By providing low levels of VOCs, this benefits the indoor environment`s air quality.
3.SMOOTH SURFACE
The continuous texture of this surface makes it easy to clean. No heavily textured surface which can trap dirt.
Classic cases