Product Description
BWF approved Synthetic Badminton Court Mat
Enlio is the exclusive official badminton equipment supplier for Badminton Asia.
Badminton is one of the most popular games played by many worldwide in both indoor and outdoor spaces. Asphalt as well as concrete sub base are installed in multiple badminton courts all over the country. Synthetic badminton court and interlocking badminton tiles are developed by us.

BWF will certify flooring products in three different grades-"Grade 1-BWF Internation Elite", "Grade 2-BWF International Standard" and "Grade 3-BWF Basic."
Established in the year 2007, Professional Sports Flooring Systems is engaged in manufacturing and wholesaling of Basketball Court, Tennis Court, Volleyball Court,Badminton Court,Squash court and Rubber flooring . These products are extremely admired in the industry owing to their characteristics and low prices. We also provide Volleyball Court Flooring Service and Tennis Court Construction Service and All Indoor & outdoor sports flooring developer.

Besides, our products are divided into PVC Sports Floorings, PP Interlocking Floorings, Kinds Floorings, Dance/Gym Floorings, Rubber Floorings and wet area mat Mats.

Product description
Color Green
Thickness 5.0 MM
Width 1.8m
Length 15m

Test result basing on BS EN 14904
Friction:92
Shock absorption:29.4%

Vertical deformaton:1.1
BWF APPROVED PRODUCT including net and net post
Enlio badminton court mats was and will be using for
2017-2019 Badminton Asia Championships
2017-2019 Badminton Asia Mixed Team Championships
2017-2019 Badminton Asia Junior Championships U19/17/15
2014-2017 China Masters
2011-2016 National Amateur Badminton Championship
2012-2015 National Unviersity Badminton Championship
Advantages
Zero-carbon powder, and the buffer absorption performance is much better.
Professional grain, excellent anti-skid performance.
To possess the world's biggest production base and warehousing base,Product always in stock, so timely delivery and installation.
Classical Cases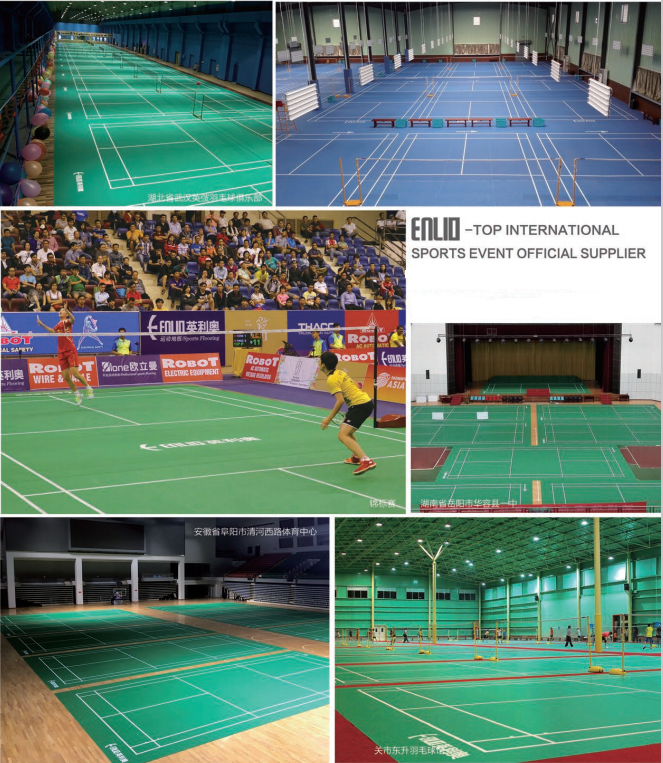 Testimonial