Product Description
Gym PVC Sports flooring
Company Introduction:
Enlio is a professional manufacturer of Sports Floorings in China. Our products are divided into PVC Sports Floorings, PP Interlocking Floorings, Kindergarten Floorings, Dance/Gym Floorings, Wet area flooring and multi-use commercial flooring, covers more than 100 types, applicable to Badminton court, Table Tennis court, Basketball court, Tennis court, Volleyball court,Gym, Dance room, Kindergarten, Swimming pool, hotels, ect.
BWF, ITF, ITTF, ISO 9001, ISO14001, CE,SGS, etc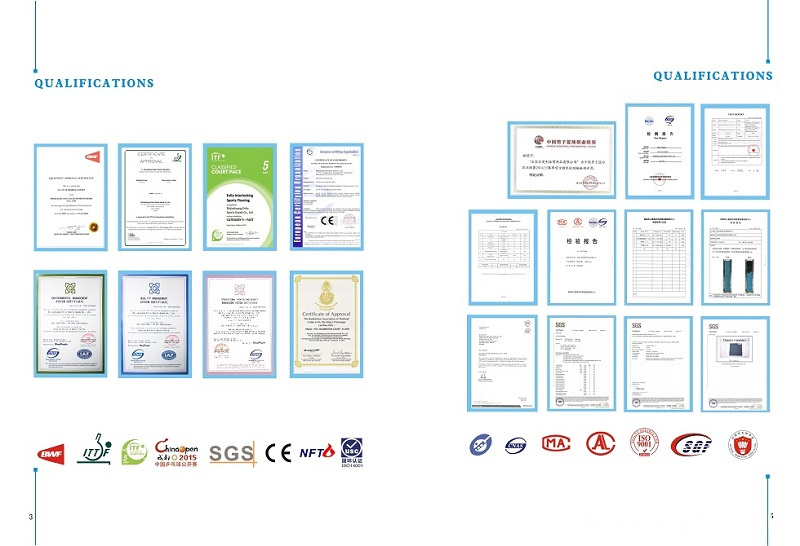 Gym PVC flooring Advantages
1.Safe and comfortable
The surface of ENLIO sports flooring is moderate varicose and has airtight
foam layer,which makes the users feel comfortable and keeps them safe.
2.Health and environment friendly
100% new material.No DOP,no heavy metals,zero formaldehyde.Use antibacterial and antifungal treatment,inhibit mildew.
3.Good vibration absorption performance
According to the application requirements,can provide 25%-50% of the shock absorption for the long-term protection of users' joints and cartilage.
4.Equilibrium friction coefficient
Provide the best grip and sliding balance,ensure smooth movement,reduce the possibility of a strain and fracture.
5.Excellent ball bounce performance
Meet the requirements of different ball games in entertainment and performance.
6.Extensive application of products
The sports flooring can meet the requirements of various places such as for competition,training and leisure application,also can be widely used in sports hall,kindergarten,gym,dance room and other places.
7.Durable
Wear-resisting,size constant deformation and durable.
8.Ideal comprehensive function
Provide an ideal solution for the appearance and function of the stadiums.