Product Description
Newly Zipper system Synthetic Badminton Court Mat
In this pursuit of personalized society, our sports floor is also constantly pushing the old and new.This type of floor is a very special event floor.
Badminton is one of the most popular games played by many worldwide in both indoor and outdoor spaces. Asphalt as well as concrete sub base are installed in multiple badminton courts all over the country. Synthetic badminton court and interlocking badminton tiles are developed by us.
Established in the year 2007, Professional Sports Flooring Systems is engaged in manufacturing and wholesaling of Basketball Court, Tennis Court, Volleyball Court,Badminton Court,Squash court and Rubber flooring . These products are extremely admired in the industry owing to their characteristics and low prices. We also provide Volleyball Court Flooring Service and Tennis Court Construction Service and All Indoor & outdoor sports flooring developer.

Besides, our products are divided into PVC Sports Floorings, PP Interlocking Floorings, Kinds Floorings, Dance/Gym Floorings, Rubber Floorings and wet area mat Mats.

Product description
Model:Y1250L
Texture:Crystal Sand
Size:16m(L)*1.8m(W)*5.0mm(H)
Color:Green
Installation:Zipper Latch System
Application:From high-end indoor sports ground to world-class sports events
Warranty:3years

Advantages
Zero-carbon powder, and the buffer absorption performance is much better.
Professional grain, excellent anti-skid performance.
To possess the world's biggest production base and warehousing base,Product always in stock, so timely delivery and installation.
Classical Cases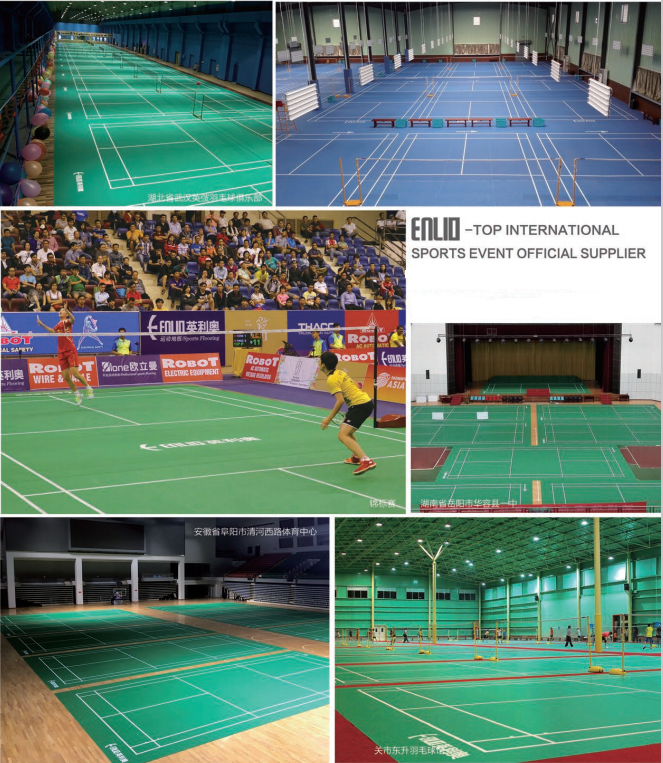 Testimonial