Product Description
Shijiazhuang Enlio Sports Goods Co.,LTD is situated in City of Shijiazhuang, Hebei Province, integrated with research & development, produce, sales, installation and after-sales service since 2007.
Enlio company has two brands of "Enlio" and "Alite", specialized is sports surfaces including PVC sports flooring, Modular Court Tiles , Wet Area Mats , Kids Room Flooring , Dance Flooring , Multi- Purpose Flooring, Coverts more than 100 types, applicable to Badminton Court Mat, table tennis court, basketball court, tennis court, volleyball court, gymnasium, dance room, kindergarten, swimming pool surrounds hotels, etc.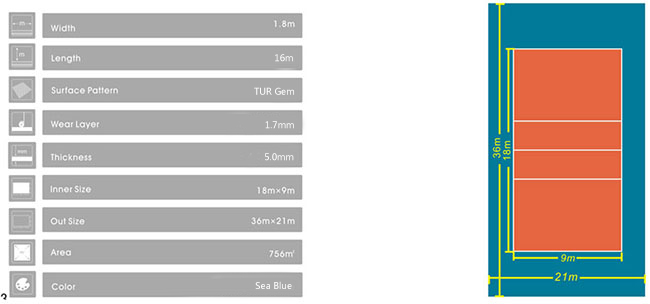 1.1.5mm-thick Pvc wear-resisting coat: super endurance&wearing strength
2.Double fiber-glass reinforced layer:make the flooring non-shirinkbaleand long service life
3.Pvc wear-resisting coat: super endurance & wearing strength
4.Double-foaming buffer layer: good performance in rebounding and shock absorbing
1.Specifications:
Width of single roll: 1.8m
length of roll 30/15m
Surface patterns: Gem
Thickness of wear-resisting layer: 1.5mm
total thickness 4.5/6.0/7.0/8.0mm
Storage period: 10 years
2.Feature:
<Super durable
<Excellent resilient
<Easy install and clean
<Shock absorption
<Sound absorption
<Anti-slip
<Comfortable foot feeling
3.The basic requirements:
1.The base for the pavement must be clean, dry, smooth and no cracks.
2.The concrete ground is supposed to have low moisture content less than 2.5% and the gypsum ground should be less than 0.5%.
3.Error of 2 meter ruler on floor surface should within 3mm.
Besides, wooden floor board, compound wood floor, tile floor, marble floor and terrazzo floor which could arrive the flatness requirement can also be paved.