Product Description
ITTF Certificated Vinyl Table Tennis Floor
Company Introduction
Enlio is a professional leading manufacturer of Sports Flooring in China. Our products are divided into PVC Sports Flooring, PP Court Tiles, Kids Flooring, Gym Room Flooring, Wet Area Mats and Multi- Purpose Flooring, covers more than 100 types, applicable to Badminton court, Table Tennis court, Basketball court, Tennis court, Volleyball court,Gym, Dance room, Kindergarten, Swimming pool, hotels, ect.
Enlio had been certified by BWF, ITTF, IHF, ITF. Recently the 7mm PVC flooring has been approved by FIVB as FIVB recommended!
The floor system has first and foremost the following advantages: high surface resilience, superior damping of impact energy, high coefficient of friction, as well as aesthetic appearance due to many available topcoat colour compositions; the floor is seamless and easy to clean.
The thickness of elastic surface sports floor is: 5.5 mm thickness of timber construction and 2mm wear layer coating.
PVC Sports Flooring for Table Tennis
Product Structure:
1.PVC wear-resisting coat:Super Endurance and Wearing Strength
2. Fiber-glass reinforced layer:Make the Flooring Non-shrinkable and Long Service Life
3. PVC wear-resisting coat:Super Endurance and Wearing Strength
4. PVC Foaming Buffer Layer: Good Performance in Rebounding and Shock Absorbing.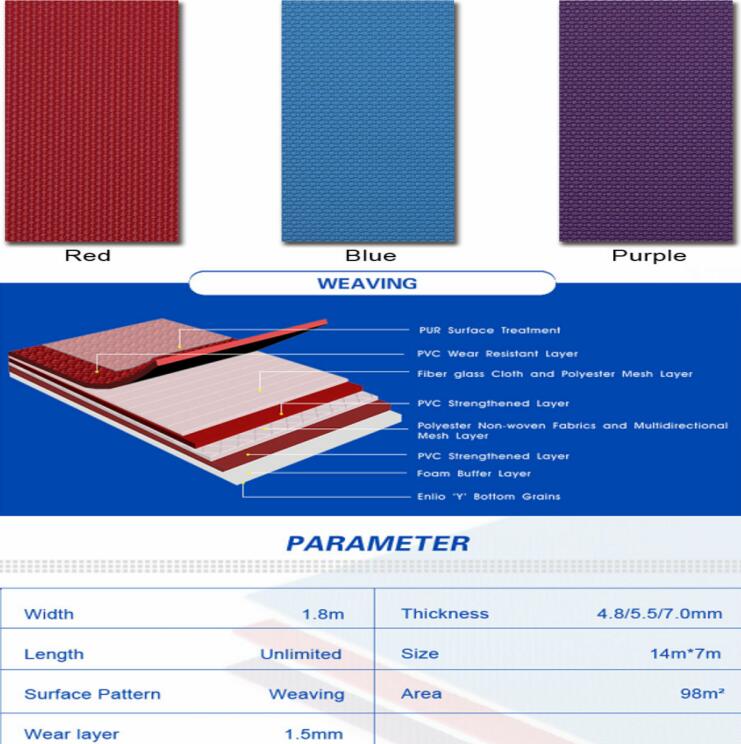 Supplied to 2016/2019/2020 ITTF World Championships
2013-2020 ITTF World Cup
2013-2017 ITTF China Open
2018 Youth Olympic Games