Product Description
SAFE AND ECO-FRIENDLY INDOOR FLOORING
FOR
NURSERIES & PRE-SCHOOLS
It's crucial to stimulate young children's senses when creating a nursery and pre-school environment. That's why we take special care to offer colour and pattern combinations that pique curiosity and encourage mobility for toddlers and children who are just learning to walk. Floors should be comfortable to walk and play on. Our floors are easy to maintain, and never require toxic pollutants to keep them clean.
Our indoor kids rubber flooring is very strong and can stand up to a variety of conditions. When properly cared for, rubber flooring can last 20 years or longer. It`s also very easy to take care of and clean. Typically, you just need warm, clean water and a mop to keep a rubber floor clean. Our synthetic rubber flooring is usually more stain-resistant than natural rubber flooring.Plus, it can reduce noise , and they provide extra cushioning for accidental falls.
Besides, we can also produce Dance Flooring, Gym Room Flooring, PVC Sports Flooring, Wet Area Mats, Multi-Purpoese Flooring and so on.
Production description
Type Vinyl sheet flooring
Total Thickness 3.5/4.0/4.5mm
Wear layer Thickness 0.8mm-1.0mm
Length Unlimited
Installation method Glue
Application Kindergarten, School, Child room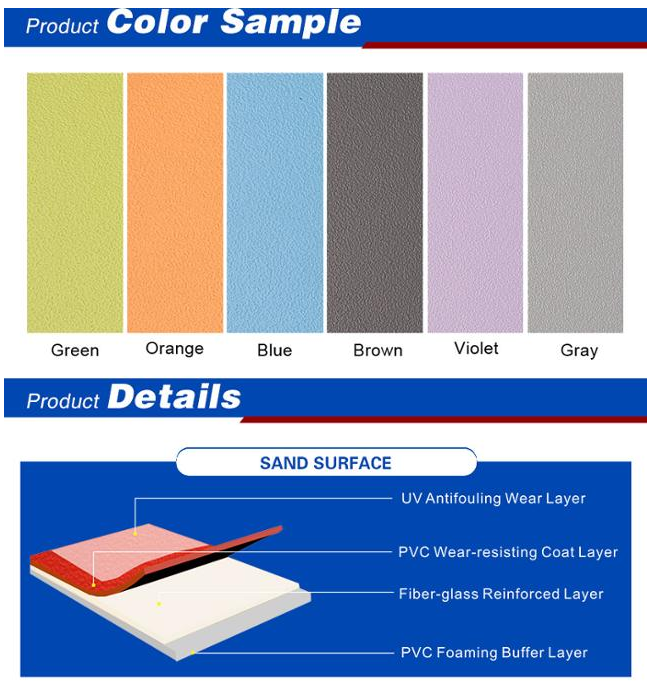 Classical Cases