Product Description
Enlio Polypropylene suspened sports surfacing
Enlio is a professional manufacturer of Sports Flooring in China. Our products are divided into PVC Flooring, PP Court Tiles, Kids Playground Flooring, Dance Flooring, Gym Room Flooring, Wet Area Mats and Multi- Purpose Flooring, covers more than 100 types, applicable to Badminton court, Table Tennis court, Basketball court, Tennis court, Volleyball court, Gym room, Dance room, Kindergarten, Swimming pool, hotels, ect.
For more than 10 years, Enlio has manufactured the highest quality court tiles, offering safe, durable, high-performance flooring to the most prestigious programs and the most enthusiastic home players.
Enlio is intergreted with R&D, production, sales, installation and service as a whole.With Enlio the help of professional design and factory-direct pickleball court tile installation teams, a pickleball court suit your needs will be build.This sophisticated, state-of-the-art system of cross ribs affords a completely flat play surface that puts a spring into every step, improves comfort on the court, reduces fatigue and leg stress, and heightens play. Super-fast drying time after rainfall gets your athletes back on the court quicker and the low-glare surface keeps their focus on the game. For the best possible modular flooring solution for your professional, commercial, or home pickleball court.
Material: PP
Name: Enlio Suspended Interlocking Flooring
Application: Used for outdoor pickleball, basketball, tennis, volleyball, netball, badminton, table tennis, multifunction.
Connection: Interlocking
Color: Red/ grass green/dark green/ sea blue/customize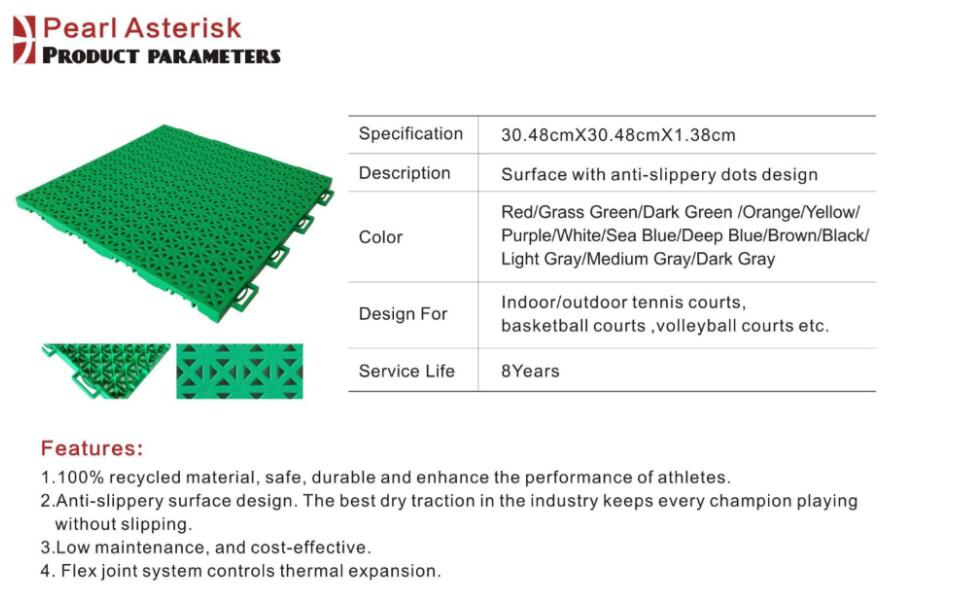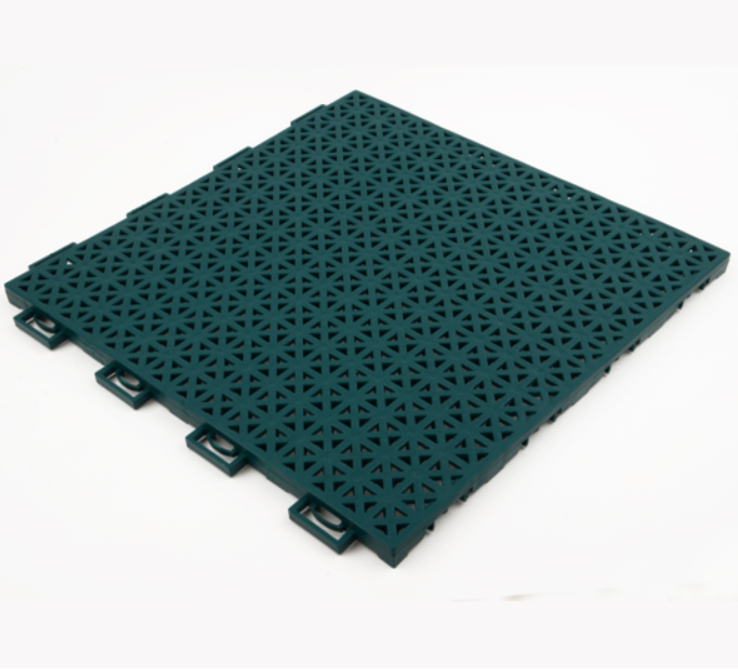 CHOOSE Enlio FOR:
Comfortable.

We are intergreted with R&D, production, sales, installation and service as a whole. Outstanding support from design to installation and throughout the life of your court will be provided.




Quality. We supervise our molding process so we`re always in control of quality.




Performance. Our products are engineered to enhance comfort and performance – and it will show in your players` game.




Safety. Enlio products were developed with injury-prevention in mind.




Durability. Protect your investment by choosing long-lasting flooring products.




Ease. Every Enlio product was designed to be portable, low-maintenance, and cost-effective.
Advantages
> Durable:Suspended structure,interlocking floor.
>Environmental Protection: 100% recyclable material and smelless.
>Controls thermal expansion;Provides controlled lateral give during play for reducing leg stress and adding comfort.
>Installation: Easy to install, no need adhesive.
>Safety: Reduce the sprain and strain in sports.
>Maintenance: Free maintenance.
>All Weather: No special weather be required.
>Tepreture: -40℃-80℃.
>Certificate: CE> SGS.
>Multi-purpose and colorful appearance.