Product Description
Outside Tennis Court Interlocking Flooring
How to built a good Outdoor Sports Court Tiles, Enlio Sports Flooring, PP Interlocking Tiles focus on below points:
1. Functional Performance
Superior shock absorption and complete safety during play. Support structure designed based proven multi-function suspension. Quick- Drying surface offer all weather work system.
2. Safety Warranty
Functional and rigorously designed, ideal choice for sports floor. Anti-slip surface can effectively prevent sports injury. Scientific structure surface, make stability and beautiful appearances.
3. Technical System
Various choices for specifications and colors, customized available, can be directly paved in the cement or asphalt based surface, Just connected by unique designed locking system, easily DIY.
4. ECO Maintenance
Developed for easy and cost-effective maintenance. Ensure color fade-less within 5 years, No deformation, excellent Anti-Aging Performance Within 8 years.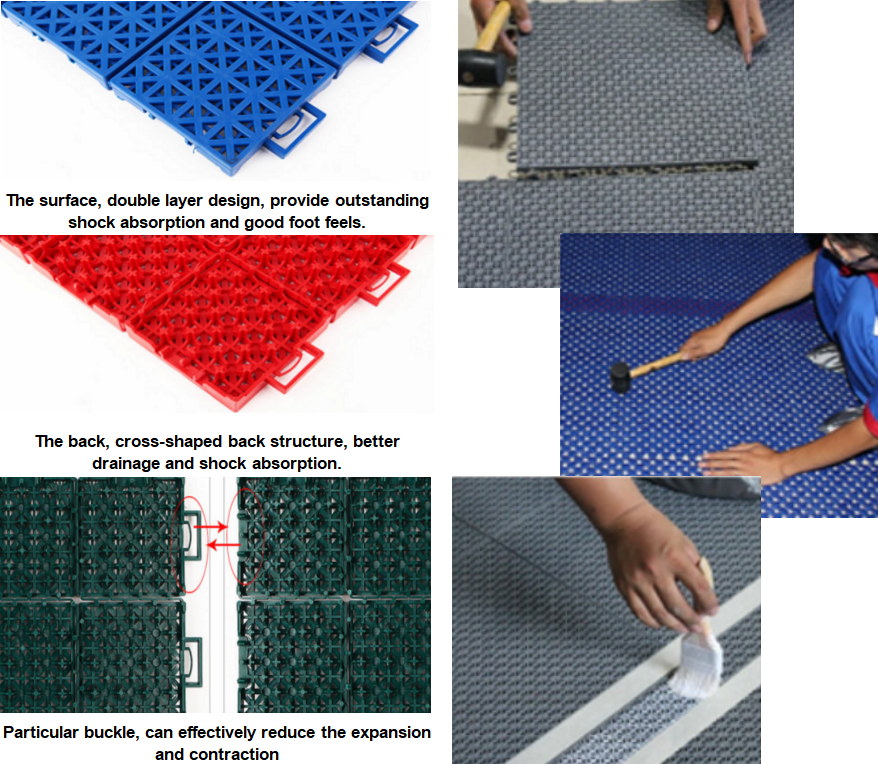 PP Interlocking Court Tiles
Functional Advantages
1. Easily portable.
2. Easy install and uninstall.
3. No use of glues or other fixing materials.
4. Applicable in any solid surface.
5. Totally customizable.
6. Open top design allows for immediate drainage during wet weather
7. Resistant to extreme temperatures -35c ~ +70c, water and humidity.
8. Low maintenance, cost effective.
9. Anti-move, Anti-theft.
Company Strength:
1. With the largest production base and warehouse for Court Tiles in the world, TOP annual sales.
2. 100% PP(Polyproplene) material, food standard, make sure a more stable quality.
3. Imported dye stuff from Germany Basf. Superior color fastness and anti-weather performance. The court tile will be no obviously color change within 5 years.
4. Totally self-production from the particle, control quality from the very begining of the production.
5. Special injection molding process, no color shading, even shrinkage and flat surface. Anti-aging.
6. The unique flexable locking system, effectitily control the thermal expansion and contraction.
Packaging & Shipping
By Carton in accordance with international standard transport