Product Description
Easy Installation Outdoor PP Basketball Modular Sports Flooring
DESIGN YOUR CUSTOM COURT BY YOUR SELF

Easy installation,low maintenance and high performance are advantages for current sports court tiles. so our R&D department develops about dozen of court tiles .Besides our products covers:Badminton Court Mat, Table Tennis Sports Flooring, Basketball Sports Flooring, Volleyball Sports Flooring, Tennis Sports Flooring,Futsal Flooring, Gym Room Flooring, Kids Room Flooring, Dance Flooring, Handball Flooring, Multi- Purpose Flooring. And our Court Tiles ( PP Interlocking Flooring) Outside Basketball Court, Outside Tennis Court, Outside Multi-Use. Our Surface Can meet all your needs.
It is specifically-designed for outdoor basketball/backyard playground applications. The precision locking system and surface profile provides a smooth, monolithic surface with the best wheel grip in the industry.They are engineered to stand up to the toughest weather conditions and its specially shaped perforations allow water to drain easily and the surface to dry quickly, so your facility can be up and running quickly, even after heavy rainfall.

Product details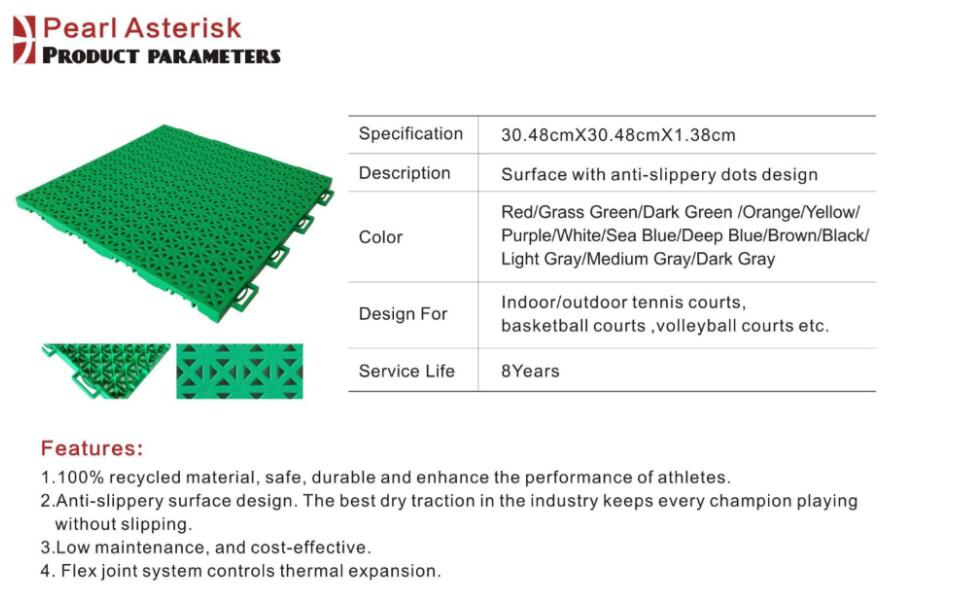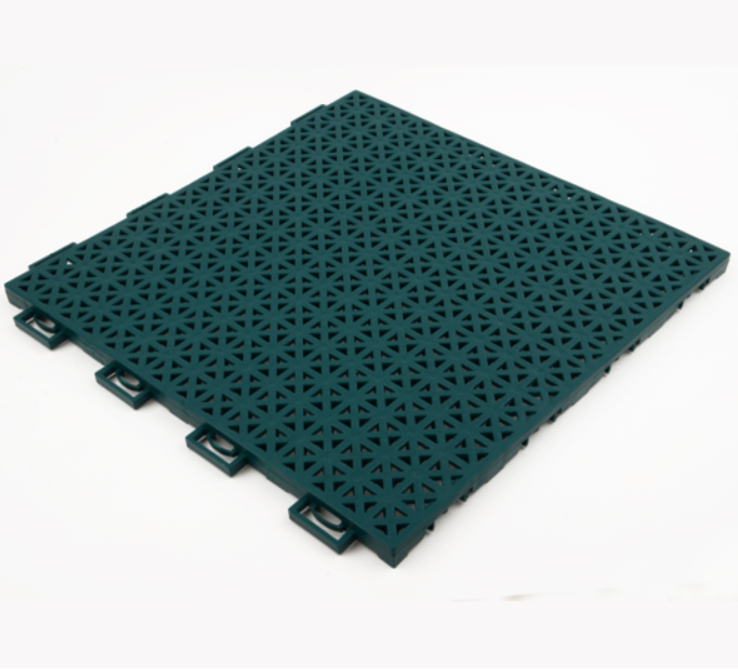 Enlio interlocking modular sports flooring offers the perfect surface for futsal/basketball/tennis/badmintion/kids playground etc with excellent warranty, best performance and long life.
Interlocking modular sports flooring has various advantages like:

Best performance
Portable or Permanent Flooring System
Long life – Have a warranty of 8 years and life even longer
Maintenance-free
Non-stop usage round the clock
Multi-sport & multi-purpose
All-weather playability (heavy rain, high heat, intense cold)

Easy to Assemble (DIY Installation)
One of the many benefits about this outdoor pickleball flooring kit is that the installation can be done with your own bare hands. We call it a [Do It Yourself" sports court floor because it does not require professional installation nor professional tools. The tiles have a four loop-to-peg interlocking system, snapping together with a single downward push just like a puzzle. Disassembling the tiles is just as easy as the installation.
These tiles are engineered with high-impact polypropylene plastic, purposely designed to be inflexible to create a firm, flat, and uniform game court. This also makes the tiles rigid and sufficiently strong enough to support heavy weights such as cars, without harming the tiles. ModuTile offers a variety of color combinations; so you could have the Pickleball court made just for you!
Contact us for Related products