Product Description
Enlio company has two brands of "Enlio" and "Alite", specialized is sports surfaces including PVC sports flooring, Modular Court Tiles , Wet Area Mats , Kids Room Flooring , Dance Flooring , Multi- Purpose Flooring, Coverts more than 100 types, applicable to Badminton Court Mat, table tennis court, basketball court, tennis court, volleyball court, gymnasium, dance room, kindergarten, swimming pool surrounds hotels, etc.
Surface :Snake surface
Specification : Unlimited length*1.8m*4.5mm

Thickness of wear-resisting layer: 1.2mm
Color: Red,green

Warranty period: 6 years

Product structure: Gymnasium,table tennis court,badminton court
1. 1.2mm thick high durable anti-slip biomimetic snake-skin layer
2. High-strength polyester layer
3. Fiber-glass reinforced layer
4. High density foaming buffer layer
5. Bottom sucking technology to resist mobility
Application:
Enlio has established successful long-term relationships with several international sports government bodies, such as BWF, ITTF, ITF, IHF and been approved to be the official equipment supplier since then.
Product lines actively serve in diversified sports, such as Badminton, table tennis, basketball, volleyball, tennis and, etc.
Enlio consecutively managed to be the Exclusive Event Supplier of 2014-2016 season CBA (Chinese Basketball Association) League Matches; 2016, 2019-2020 ITTF Championships; 2018 Youth Olympic Table Tennis; 2013-2020 ITTF World Cup; 2017-2019 BWF Championships; 2014-2017 ITTF China Open; 2014-2017 ITTF China Master; 2016-2018 FIBA 3X3 World Tour Qualifier of China; and various domestic, international sports events.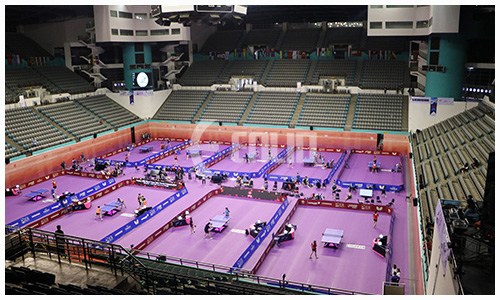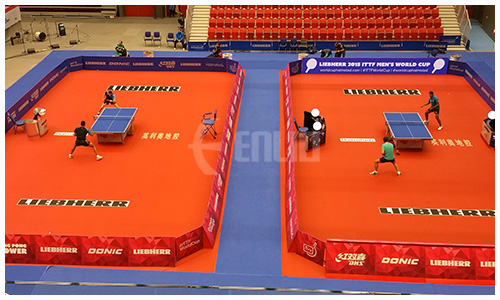 also can be used as table tennis and badminton court floor