Product Description
Vinyl Multi-purpose Indoor Sports Flooring
Product introduction
Enlio PVC basketball flooring is made up by pure PVC material without calcium powder, which provide excellence performance for shock absorption and ball rebounce.
Due to specialised design in combination with integrated foam backing,ENLIO basketball PVC flooring efficiently protects athletes, joints and cartilages during sports, training, game and competition.
The patented tech surface top layer of PVC sports flooring ensures durability and easy maintenance of the floor covering.Along with excellent functionality, it is renowned for optimal slip resistance which helps to prevent accidents caused by either a too low, or a too high coefficient of friction.
ENLIO Basketball Court Flooring is a point elastic sport flooring fully compliant with the requirements of EN 14904.
Wear Layer: 1.2mm or 1.5mm
Advantage: Environment-friendly, moisture proof, wear resistence, slide Shock absorption, easy installation and maintenance, fashionable and beautiful, etc.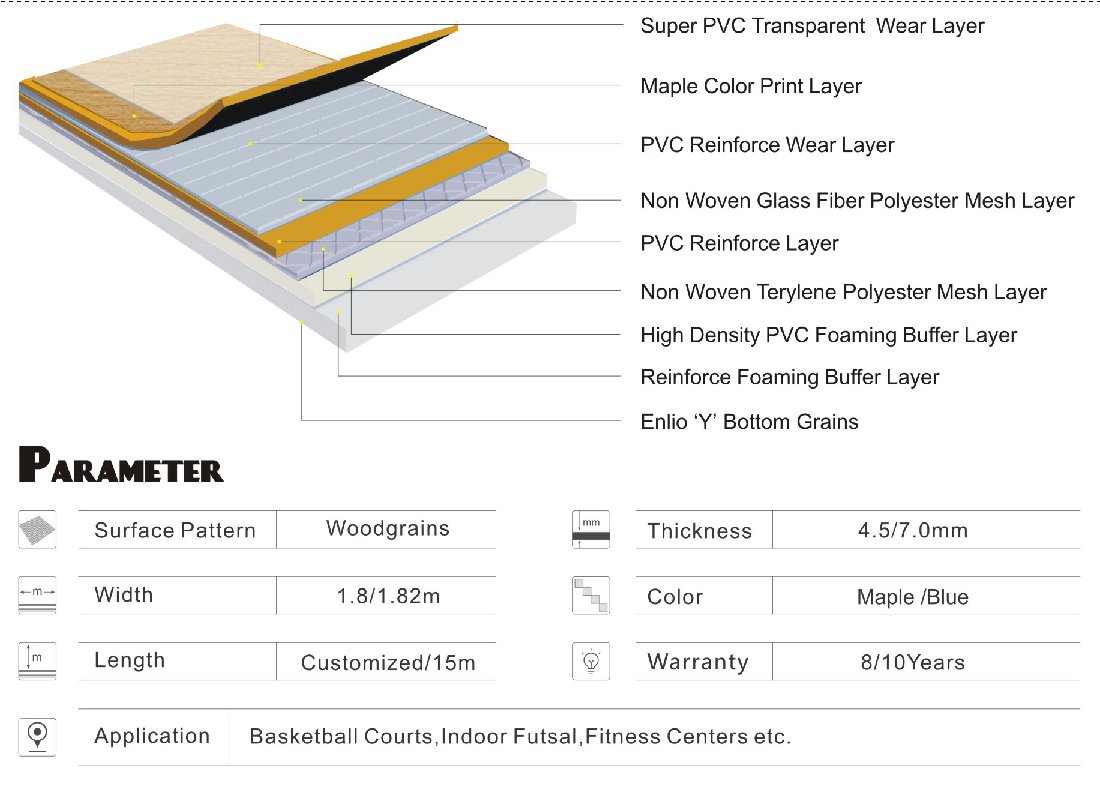 Material of PVC Sports Flooring:
The raw material of our PVC Sports Flooring is virgin materials instead of recycled material to make sure the high quality. The service life of our pvc plastic floor is as long as 10 years under normal conditions.
Advantage of PVC Sports Flooring:
1). Environment friendly: made of PVC pure virgin material
2). High quality and longest service life: one-off scrape coating techniques.
3). Wear resistance, moisture proof, slide prevention, shock absorption, fashion and beautiful, etc.
4). Easy installation and maintenance.
Application of PVC Sports Flooring:
Sport venues: basketball courts, tennis courts, badminton courts, runway, playground, gym halls, and any other training or competitive places.

Commercial or public places: office buildings, hotels, dance halls, exhibition halls, hospitals, schools, kindergardens, parks, corridors, etc.

Residential places: appartment, living room, rest room, bedroom, etc