Product Description
PVC Interlocking Tiles Wet Area Mat
Company Introduction
Shijiazhuang Enlio Sports Goods Co., Ltd., located in Shijiazhuang, is a leading plastic sports floor making company. Our company integrates the manufacture, sale and after-sales services. In 2006, on the basis of original Taiwan technology, we developed PVC sports flooring by applying the metal-rolling production line from Germany. Our annual production capability is 5,000,000 square meters. At the same time, we also provide high-qualify OEM services for many brands.
Our main products include PVC Flooring, Courts Tiles, Kids Flooring,Wet Area Mats,Dance Flooring.

Product Description
ENLIO Wet Area Mat is our wet area flooring product perfect for locker rooms, pool areas, and anywhere cleanliness, hygiene, waterproofing, and safety are important.
ENLIO Wet Area Mat is a textured rolled vinyl flooring product perfect for barefoot traffic areas such as poolside, steam rooms, whirlpool areas, and shower areas. It is a smooth, yet slip-resistant waterproof floor ideal for soft-soled, high traffic areas like the locker room, corridors, common areas, and more.
ENLIO Wet Area Mat provides significant traction, built in technology for ease of cleaning, stain resistance, and contains a bacteriostat which inhibits the growth of microorganisms and bacteria.
ENLIO Wet Area Mat is available in 6 colors that are maintained throughout the life of the floor.
Pieces come in 20*20cm with a 0.9cm thickness. Enlio Wet Area Mat is heat welded to custom-cut gulley angle edging that creates a clean professional appearance and watertight seal.

ENLIO Wet Area Mat is made of a high-quality vinyl and contains Aluminum oxide throughout the thickness and silicon carbide and colored quartz in the surface layer. The backing is made of non-woven polyester/cellulose with glass fiber reinforcement. ENLIO Wet Area Mat has a chemical resistance making it unaffected by surface water and many chemicals. It meets all the requirements for slip resistance, indentation resistance, fire safety, wear resistance, heat resistance and flexibility.



Details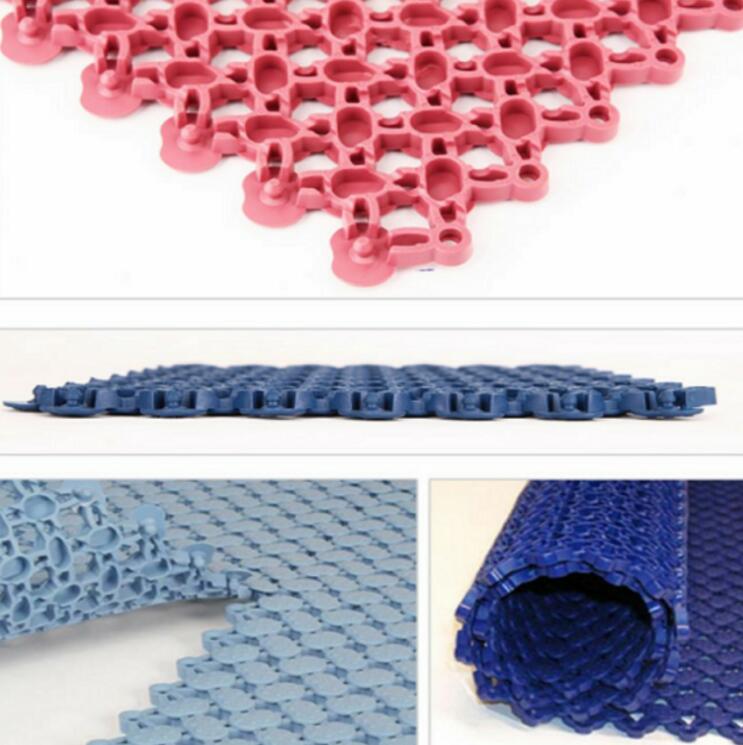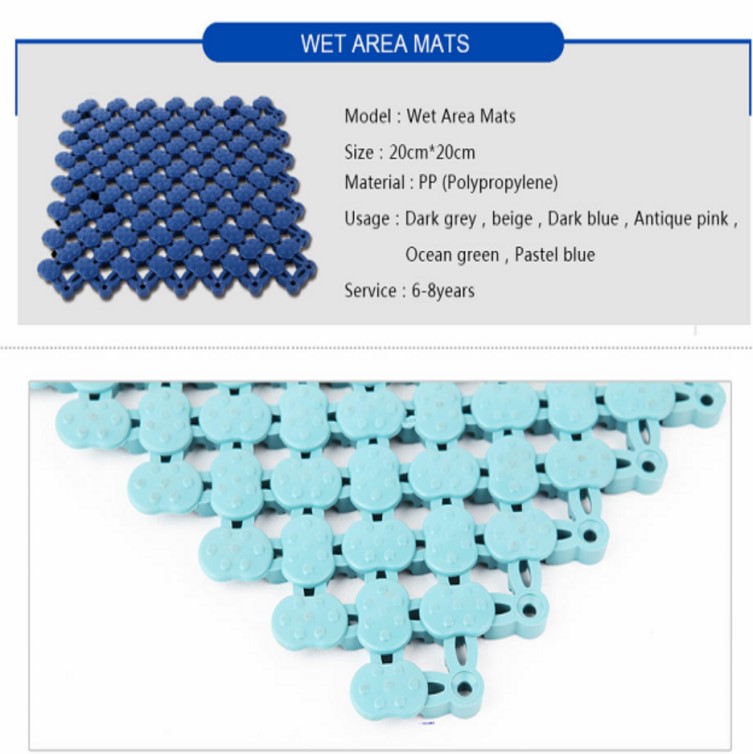 Detailed description:
1.Materials: PVC
2.Length*Width*Height:20cm*20cm*0.9mm
3.Weight:4.1kg/m2
4.Suitable temperature range: -35°C-+70°C
5.Color: Dark Blue,Light Blue,Dark Grey,Ocean Green,Beige,Antique Pink
6.Package:50pcs/CNT
7.Bacterial resistance: No growth
8.Slip resistance:DIN 51097:A+B+CDIN EN 13451/15288-1:30
Application
Usage: Swimming Pool surrounds, Saunas room, Bath center, Spas,Changing room, Hotels