Product Description
Enlio is leading flooring manufacturer of Basketball court, Badminton Court, Table Tennis Court, Tennis Court, Volleyball Court, Indoor Futsal Cout, Outdoor Sports Flooring, Interlocking modular court tile etc. These products are well known in the market for their efficiency, robustness and professional design.
Our Sports Flooring have shipped /distributed over 80 countries worldwide. Supported by the Enlio Sports Team, a huge installation work done abroad.
Anti-slip Wet Area Mats, Swimming pool court tiles
These Wet Area, Anti-Fatigue & Flow-Through Slip-Resistant Floor Mats provide a safe, productive surface in occupations that require long periods of standing. Under these conditions, leg muscles become static, restricting blood flow. Reduced blood flow causes fatigue. Anti-Fatigue mats allow leg muscles to contract and expand increasing blood flow thus reducing fatigue.
Enlio Plastic Wet Area Mats is ideal for swimming pool surrounds, showers, spas,saunas and changing rooms. Unique design allow water to drain off easily,providing slip resistant, safe and dry surface. Enlio mat is warm and comfortable and ideal with barefoot traffic.
Features:
1. Anti-slip,non-toxic,harmless,pollution-free,anti-hydraulic pressure
2. It is special used for swimming pool boundary
3. Easy to install, and DIY with different colors.

4. Low cost maintenance, easy clean.
5. The products passsed ISO9001, ISO14001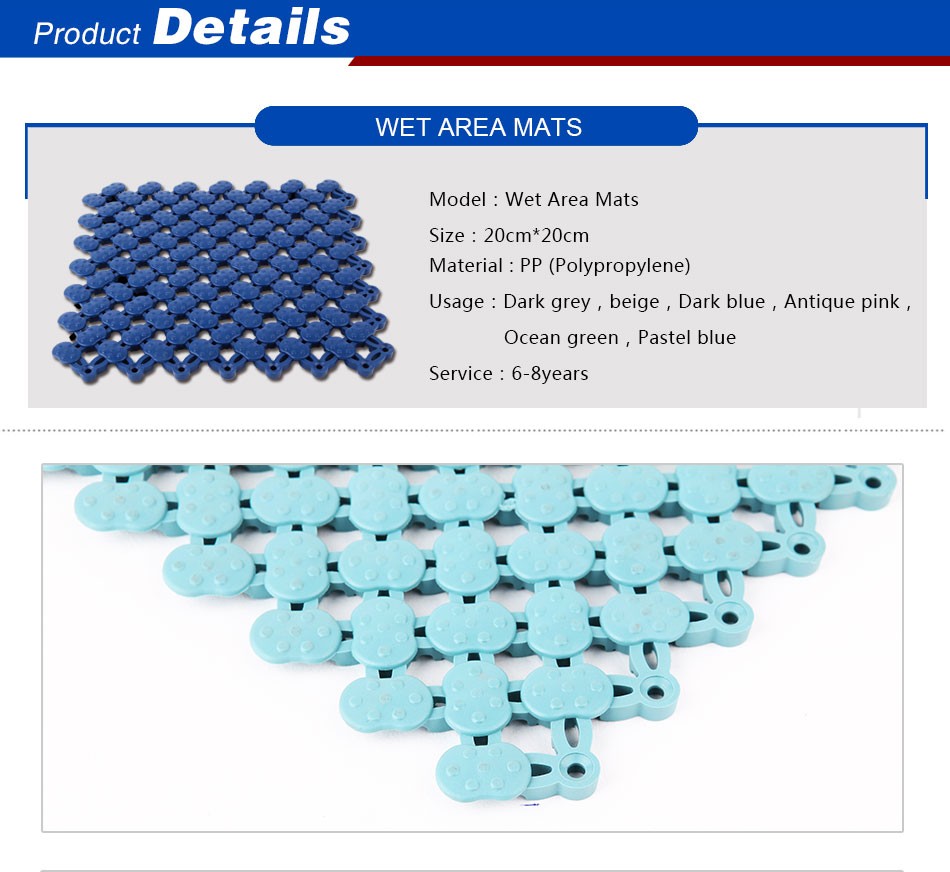 Material: Antibacterially treated UV-resistant soft vinyl. 100% recyclable.
Thickness:9mm
Weight: 4.2kg/m2
Temperature resistance: -35~+70℃
Color: dark blue, light blue, dark grey, ocean green, beige, antique pink.
Packing:100 tiles/box(approx.4m2)
Bacterial Resistance: No growth
Slip resistance: DIN 51097: A+B+C
DIN EN 13451/15288-1:30
Application: Outside Multi-use, Indoor Multi-use, Swimming Pool flooring, Gym room flooring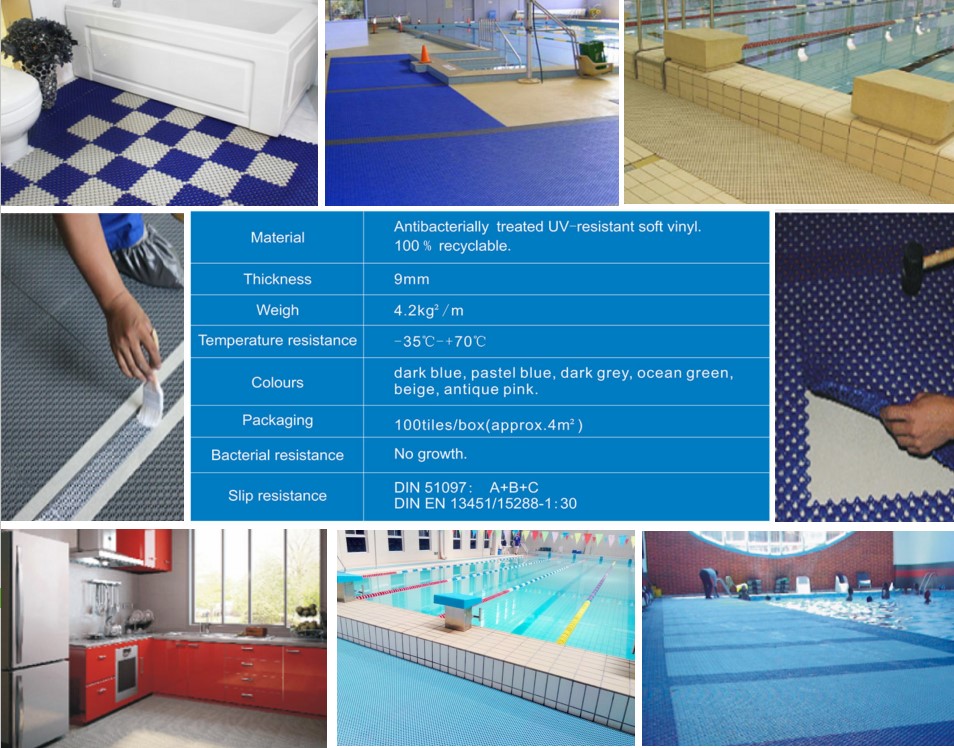 How do we make sure our products are colorfast?
1. Material: Selected yanshan petrochemical 100% high performance polypropylene copolymer raw materials
2. Toner: German basf imported color powder, antioxidant and UV absorber.