Product Description
Vinyl Sports Floor Multi-purpose Sports Flooring
Company Introduction
Established in 2007, Enlio Sports Goods aims at the integration of research, innovation, manufacturing, sales, installation, after-sales services and provide customers with an ultimate sports flooring solution in the filed of professional sports flooring.
The company possesses more than 30 national patents and segments its products into 5 categories which are PVC Flooring, Courts Tiles, Kids Flooring,Wet Area Mats,Dance Flooring.
During the past decade, we exported our goods to over 80 countries all over the world with the sales record of 6millions sq m sports surface each year.
That triggers (generates) over 65million USD annual revenue.
With the overseas branches in India and Indonesia, the sales figure will continuously increase in the most potencial international market.
Mean while, we have registered trademarks within 9 countries,
Being protected by the trade law , our clients rights are well protected.

Product introduction
ENLIO PVC flooring is an attractive rolled vinyl flooring product that is easy to install and maintain. If you are looking for a real wood appearance without the expense, this is the best option available for you. Suitable for gymnasiums, locker rooms, yoga or aerobics studios, equipment rooms, common areas, and more, Enlio offers many options and benefits:

*Available in a texture designed specifically for basketball courts.

*Superior shock absorption makes it a safe flooring solution for any activity or age group

*Great coefficient of friction offers optimal slip resistance

*Consistent vertical deformation enables participants to increase their on-court stability and eliminate area indentation

*Consistent ball rebound superior to that of other comparable floors

*Sustains its structure under rolling loads and maintains a resistance to static load.

ENLIO Basketball Court Flooring is a point elastic sport flooring fully compliant with the requirements of EN 14904.
Wear Layer: 1.2mm or 1.5mm
Advantage: Environment-friendly, moisture proof, wear resistence, slide Shock absorption, easy installation and maintenance, fashionable and beautiful, etc.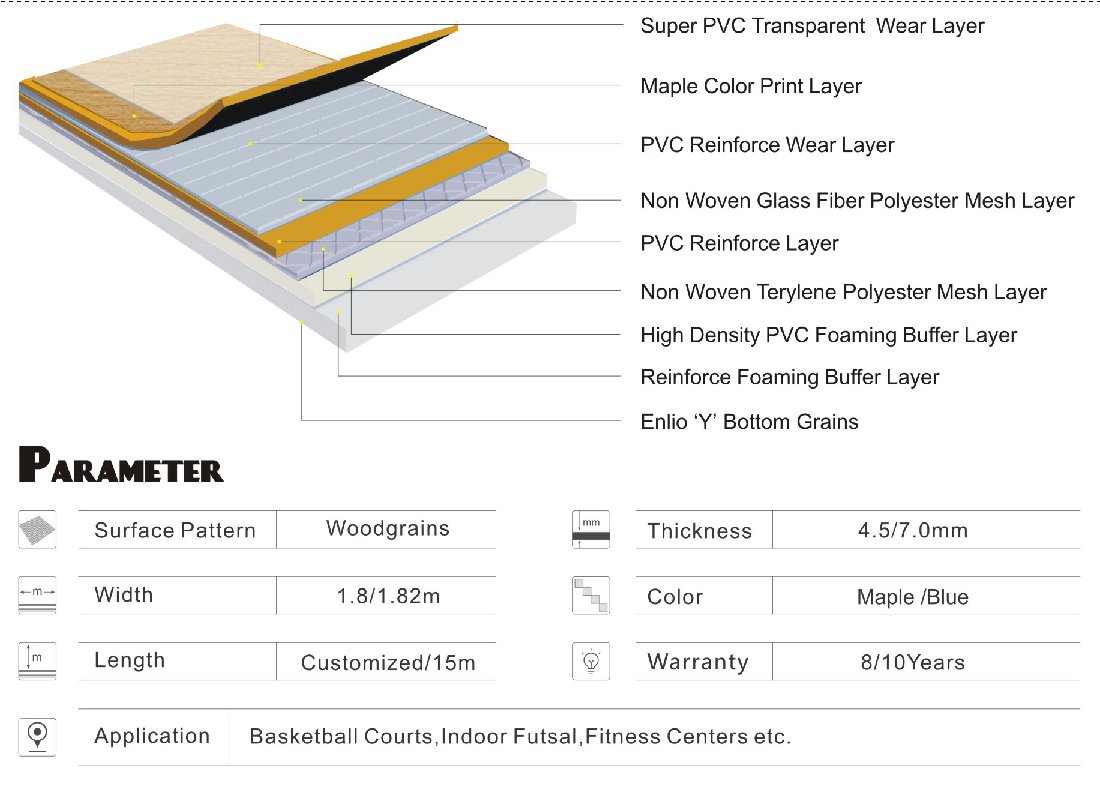 Material of PVC Sports Flooring:
The raw material of our PVC Sports Flooring is virgin materials instead of recycled material to make sure the high quality. The service life of our pvc plastic floor is as long as 10 years under normal conditions.
Advantage of PVC Sports Flooring:
1). Environment friendly: made of PVC pure virgin material
2). High quality and longest service life: one-off scrape coating techniques.
3). Wear resistance, moisture proof, slide prevention, shock absorption, fashion and beautiful, etc.
4). Easy installation and maintenance.
Application of PVC Sports Flooring:
Sport venues: basketball courts, tennis courts, badminton courts, runway, playground, gym halls, and any other training or competitive places.

Commercial or public places: office buildings, hotels, dance halls, exhibition halls, hospitals, schools, kindergardens, parks, corridors, etc.

Residential places: appartment, living room, rest room, bedroom, etc